Movie Review: Tera Intezaar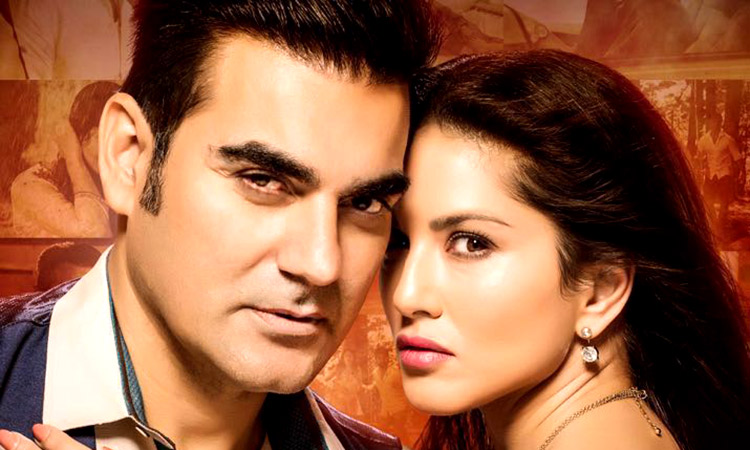 While a horde of films of Sunny Leone released in 2016 like MASTIZAADE, ONE NIGHT STAND, BEIIMAAN LOVE, in 2017 the actress was often spotted only in special dance numbers in some popular films. However, this time around, resuming her role as a lead actress, Sunny Leone is expected to scorch the screens with Arbaaz Khan in TERA INTEZAAR. With a new pairing on board, let's find out if the film manages to entice the audience or not. The story revolves around Raunak [Sunny Leone] who is on a desperate hunt for the love of her life Veer [Arbaaz Khan] who has been missing from two days. In a bid to find him, Raunak comes across a form of an exorcist [Sudha Chandran] who is referred to her by her sister and brother-in-law [Hanif Noyda]. Raunak goes on to reveal all the details about her story to the exorcist, about how she came across Veer who is a painter and had made her painting even before she met him. As they fall in love amidst beachy locations, Raunak being a gallery owner who also organizes exhibitions, expresses her desire to exhibit Veer's paintings to the world. To crack a deal she sets up his meeting with her gallery's permanent clients Vikram [Arya Babbar] who does business with his partners who are his girlfriend Alina [Bhani Singh] and Bobby [Salil Ankola]. Veer, who doesn't want his work to be misused, quite reluctantly decides to show one of his works to the business partners headed by Vikram but this only leads to further drama in Raunak's life. A sudden attack by the partners, who become greedy to acquire all of Veer's works that are apparently worth millions, leaves Raunak unconscious after which Veer goes missing. The rest of the film revolves around Raunak's desperate attempt to find the truth behind Veer's mysterious disappearance and also the disappearance of Vikram and his business partners. With scenic locations as a backdrop for musicals and the sexy scenes of Sunny Leone, the story written by Anwarullah Khan is too dishevelled. While the screenplay written by Raajeev Walia in the first half is haphazard, the second half looks half-baked. The editing [again by Raajeev Walia] ruins the experience of watching the film as many scenes seem disconnected from each other. In an attempt to show two parallel tracks simultaneously, one where the four business partners are stranded in a jungle where they encounter bizarre experiences, and on the other, Sunny Leone aimlessly running and roaming around the streets, the scenes fail to establish a connection within the first half hour leaving one extremely confused. Although the makers attempted to create a good amount of suspense in the plot, they have failed to retain logic in the story. The film also deals with a few supernatural elements and a series of twists that forms the climax. But it just seems unbelievable and has multiple loopholes. The direction [Raajeev Walia] fails to impress. The titillating scenes are few and fail to ignite the required romance on screen. They look forced in a desperate attempt to act as a crowd puller. The dialogues aren't impactful and are unintentionally funny. The film also tries to switch between genres ranging from love story to action to horror but fails to hook you to the story. Talking about performances, the main leads Arbaaz Khan and Sunny Leone try their best but fail to portray any chemistry. Sunny Leone's performance is decent and she does a fair job considering that the role is quite different from her previous films. Arbaaz Khan too manages to do a decent job but his character is quite blurry. Arya Babbar, Bhani Singh and other actors seem to be a part of 'ham-fest' whereas Sudha Chandran's role in the film seems to have taken a cue or two from her daily drama TV soaps. Not giving out too many details, TERA INTEZAAR that tries to be a love story is set against the backdrop of 'supernatural' elements and hence has also tried to make use of VFX. It fails however miserably to say the least. The cinematography by Johny Lal is strictly average. Probably the only saving grace for TERA INTEZAAR are few of its romantic tracks. While
'Mehfooz'
falls in the usual romantic genre and retains the soft music feel that seems to be the current flavour of the generation,
'Abhagi Piya'
and
'Khali Khali Dil'
too add to the soothing atmosphere. However, the Punjabi flavoured dance number
'I am a sexy Barbie girl'
is devoid of Sunny Leone's usual charm. On the whole, TERA INTEZAAR has a jumbled plotline that lacks logic and fails to establish any connect. It neither succeeds in telling a supernatural story nor does it manage to act as a quintessential love story. At the box office, the film will struggle to survive.
Read more http://www.bollywoodhungama.com/movie/tera-intezaar/critic-review/