Movie Review: Judwaa 2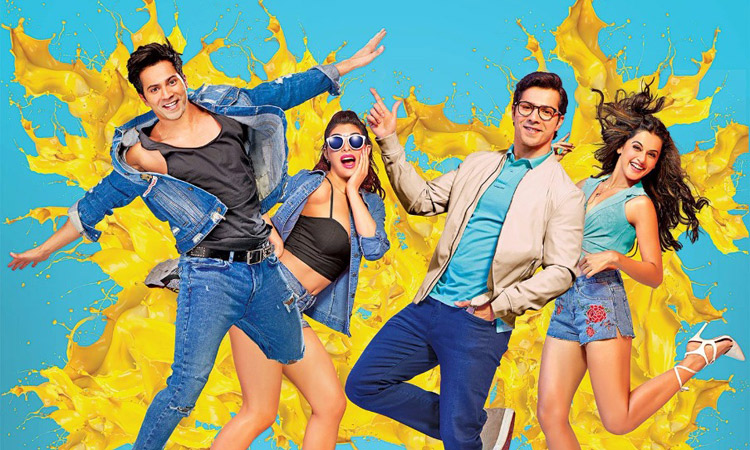 The tastes of the audiences have evolved quite a lot since the last few years but still, most of the viewers don't mind an illogical but entertaining masala comic caper. JUDWAA 2 is one such film that is unabashedly catering to 'leave-your-brains-behind' sort of cinema. So does it manage to raise laughs or fails in its endeavour, lets analyse. JUDWAA 2 deals with the fun adventures of twin brothers separated at birth. Rajiv Malhotra (Sachin Khedekar) meets the evil Charles (Zakir Hussain) in the flight and helps the authorities in getting him arrested. At the same time, Rajiv's wife Ankita (Prachee Shah Paandya) gives birth to twins. Charles gets arrested in the hospital where Ankita had her delivery and he runs away with one of the twins. Rajiv and Ankita presume that child to be dead due to certain circumstances and they move to London with their other son. This son, Prem (Varun Dhawan), grows up as a shy and docile person who can be easily bullied. His brother Raja (Varun Dhawan) grows up in Mumbai's Versova and is the opposite of Prem – he is outgoing, brash and bullying him is next to impossible. However, Raja falls in trouble when he fights with Alex (Vivan Bhatena) and injures him badly. Alex is incidentally the son of Charles and is also quite villainous. Raja and his sidekick Nandu (Rajpal Yadav) escape to London as a result. In the flight, he meets Alishka (Jacqueline Fernandez) and both fall for each other. Prem on the other hand starts dating Samaira (Taapsee Pannu) who learns music from him. But strange things start happening to both Prem and Raja as soon as the latter lands in London. The twins suffer from a peculiar problem – if one feels pain, the other shall also experience the same feeling and both even replicate each other's actions, depending on distance. Both go through a series of hilarious incidents as a result. What happens next and how the madness unfolds is what the rest of the film is all about. JUDWAA 2 is a reboot of the original JUDWAA and those who have seen the original would know what to expect. However, the makers have tweaked certain portions and moreover, setting up the story in London has given the film a fresh and grand touch. The initial portions involving the twins getting separated and how Raja gets saved from the oncoming train is well executed. The entry of Raja is whistle worthy and his antics add to the fun. The entry of Samaira and Alishka also take the film to a new level. However, the film gets a bit sexist and some of the scenes like the butt slapping sequences and Prem forcefully kissing Samaira might be seen as crass by a certain section of audiences. Also, Prem even smooching his to be mother in law (Upasna Singh) comes across as a funny sequence but again, it will evoked mixed and even extreme reactions. On the positive side – the film has some hilarious scenes as well that bring the house down. The sequence with Pappu Passport (Johnny Lever), Raja creating a scene at the London airport, Prem's various meetings with Dr Lulla (Ali Asgar), the bathtub sequence etc., are very funny. Raja using his modus operandi of narrating a sad story followed by his phone ringing is devoid of logic but makes for a fun watch despite getting repetitive. But there are also few scenes that don't work. Post-interval, it becomes tedious to see Prem and Raja being held up as a result of mistaken identity. But thankfully, the climax is where the film picks up. The film's story is a no-brainer but works for the intended audience. Yunus Sajawal's screenplay is effective and entertaining. But it could have been better and a lot more imaginative in certain places, especially in the second half. Farhad-Sajid's dialogues are one of the highpoints. The duo is known for playing with words very well and has taken several films to great heights. JUDWAA 2 is no exception. David Dhawan's direction is simple and uncomplicated despite handling a plot related to mistaken identities. However, at some places, he lets the somewhat flawed script take over and doesn't do much with his direction to salvage the situation. Also, the original JUDWAA was much better and at places, even slightly more logical. But JUDWAA 2 is an all-out illogical fare and at places, it falters. Moreover, there are too many characters and it's bewildering to see the way he has handled the characters of Charles and Inspector Dhillon (Pavan Raj Malhotra) towards the end. Varun Dhawan as expected delivers a terrific performance. The actor is in top form and the manner in which he ups the entertainment quotient with his quirks and dance moves is seen to be believed. He reminds one of Salman Khan and Govinda of the 90s and the frenzy they created. In today's times, Varun Dhawan is the only actor who's doing such roles on screen and that's a very big plus for him and for the film as well. Jacqueline Fernandez looks extremely gorgeous and performance-wise, she is fine. Taapsee Pannu however looks a bit out of place. She is not that glamorous and moreover, she seems to be in the PINK mode, talking like her character from that film. Vivan Bhatena looks dashing and does well in a supporting role. Sachin Khedekar and Prachee Shah Paandya are decent. Rajpal Yadav is hilarious and brings the house down in certain scenes. Upasna Singh goes overboard. Ali Asgar also is a bit over the top but it works for his character. Pavan Raj Malhotra has an interesting character but is not utilized well after a point. Anupam Kher is first-rate but Atul Parchure is strictly okay. Manoj Pahwa (Sharafat Ali) fails to raise laughs but Johny Lever is very funny. Rajat Rawail and Farhad (jewellery shop salesman) are okay while Vikas Verma (Rocky) gets no scope. Salman Khan is cool in his cameo. Though the writer should have tried being a little more imaginative for his cameo scene. The music of the film is good but not great. The songs from original JUDWAA are the ones that work well -
'Chalti Hai Kya'
and
'Oonchi Hai Building'
. From the new songs,
'Suno Ganpati Bappa Morya'
works to an extent while
'Aa To Sahii'
is forgettable. Sandeep Shirodkar's background score however is very entertaining. The cunning tune used in the scenes of Charles will keep circling in one's mind for some time for sure. Ganesh Acharya and Bosco Martis's choreography is eye-catching and one of the highlights of the film. Ayananka Bose's cinematography is satisfactory. ANL Arasu's action is massy and not too gory which works for this kind of a film. Ritesh Soni's editing is simple and Rajat Poddar's production design is very grand and rich and gives the film a great look. The costumes are also quite lovely, especially the ones worn by Jacqueline Fernandez and Taapsee Pannu. On the whole, JUDWAA 2, despite all the goofs, flaws and clichés, comes across as a decent paisa-vasool entertainer. At the box office, it has the potential to keep the cinegoers happy as it is quite massy and audiences have been deprived of quality content since a long time.
Read more http://www.bollywoodhungama.com/movie/judwaa-2/critic-review/