Movie Review: Lucknow Central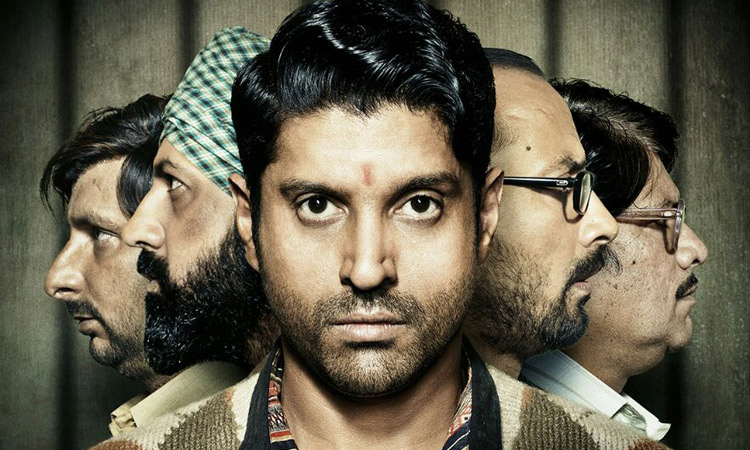 Just three weeks ago, audiences were exposed to the terrible life of jails in QAIDI BAND. Surprisingly, LUCKNOW CENTRAL, that releases this Friday, also deals with life in the prison and what's more, the crux in both the films is the prisoners forming a band in order to escape from jail. So does LUCKNOW CENTRAL manage to make a mark, despite the similarities with the other film or does it fail in making an impact, let's analyse LUCKNOW CENTRAL is the story of a group of prisoners who get a unique opportunity in escaping from jail. Aspiring singer Kishan Mohan Girhotra (Farhan Akhtar) is framed for the murder of an IAS officer in his hometown Moradabad. He is sentenced to life imprisonment and after 18 months, he is shifted to Lucknow Central jail. He finds out that the IGP (Virendra Saxena) has asked for a band to be formed in Lucknow Central comprising of a group of prisoners. They are to perform at an Independence Day celebration and also compete with band from other prisons of Uttar Pradesh. An adamant NGO worker Gayatri (Diana Penty) is given the responsibility to form the band. Kishan jumps at this opportunity and signs up for the band. He also succeeds in roping in Victor Chattopadhyay (Deepak Dobriyal), Parminder Singh Gill (Gippy Grewal), Purushottam Madan Pandit (Rajesh Sharma) and Liyakat Ansari (Inaamulhaq) after facing some resistance. Kishan however is not just trying to fulfil his singing ambition by forming this band. He plans to escape. But the jailer at Lucknow Central (Ronit Roy) is tough and not easy to be fooled. He senses about this plan. What happens later on forms the crux of the film. The story penned by Ranjit Tiwari and Aseem Arora stands on a weak wicket. Aseem Arora's screenplay is faulty and riddled with goofs. LUCKNOW CENTRAL just doesn't work and the glaring similarities with QAIDI BAND are not to blame. The beginning portions are still fine. But the film defies logic soon enough and that continues right till end. What was the relevance of Kishan pretending to be mute when he reaches Lucknow Central? Kishan plans to escape from jail and then fulfil his singing dreams. How on earth he'd do that and why didn't he realize that someone who has escaped from a prison would have to always hide from the cops and that becoming a famous singer is out of option, is inexplicable! Also certain developments in the film are highly unconvincing. The manner in which Victor ditches Tilakdhaari (Manav Vij) and joins Kishan is difficult to digest. Also how Pandit agrees to join Kishan and why nobody has a plan after escaping from jail is too much. The character of Gayatri is also half baked. It's amusing to see her getting convinced by Kishan and decides to help him form the band. The
'Teen Kabootar'
song does spike interest but immediately afterwards, the jailor leaks the video which didn't make an iota of sense. Lastly, sequences seem to be inspired from films like
Happy New Year, Gupt
and even
The Shawshank Redemption
, further diluting the impact. Ranjit Tiwari's direction is simple but with such a flawed script, there's nothing much he could have done. Few scenes are well handled but they all get overshadowed by the many bad scenes. Aseem Arora's dialogues however are fine, especially the ones mouthed by Ravi Kishan. Farhan Akhtar delivers a decent performance and manages to carry his duty of a leading actor. But this performance is no way close to his other memorable performances. Diana Penty looks pretty and doesn't get much scope. After such a crucial role in
Happy Bhag Jayegi
, it's disappointing to see her in such a weak part. Deepak Dobriyal as always is dependable and gets the Bengali accent right. He is quite moving in the scene where he meets his father. Rajesh Sharma also proves his worth and performs ably. Inaamulhaq gets a raw deal and could have done better. He rocked the show in
Filmistaan
and also in
Jolly LLB 2
. But here he just doesn't work. Gippy Grewal gets a chance to shine despite the presence of so many actors. A fine performance and his look is quite interesting! Ronit Roy is menacing as always but his performance suffers due to bad writing. Ravi Kishan (Pawan Singh Chaturvedi) takes the film to another level with his cameo appearance. His dialogue on Donald Trump will be loved. Robin Das (Kishan's father) is okay. Manav Vij has intense eyes and is alright. Virendra Saxena (IG) does fine. Manoj Tiwari plays himself and there's nothing much to talk about his act. The Music of the film doesn't work and that's not good for a film that is about a band.
'Kaavaan Kaavaan'
is the only track that works.
'Teen Kabootar'
is interesting as it's conceptualized well. The other songs like
'Meer-E-Kaarwan', 'Rangdaari'
and
'Baaki Rab Pe Chhod De'
are poor. Arjunna Harjaie's background score is dramatic and adds to the tension. Tushar Kanti Ray's cinematography is neat. Amit Ray and Subrata Chakraborty's production design is fine. Charu Shree Roy's editing is bad. The film is too long at 147 minutes and could have been way shorter. On the whole, LUCKNOW CENTRAL is a poor show all the way. The weak script, lack of entertainment value and long run time of the film will work against it. As a result, it's bound to struggle at the box office.
Read more http://www.bollywoodhungama.com/movie/lucknow-central/critic-review/